LWV of Huntington
held our first
youth committee
meeting where we had three  students  attend and participate.  We did a role play of Vote 18  and the students gave us some great ideas to use for hot topics to bring up when we are presenting it to schools.  They will also be contacting their schools and arranging for us to do 
programs
there. Everyone who attended our meeting agreed that having students as part of the committee not only brought us new ideas and contacts but enthusiasm and energy.  We suggest other leagues reach out to students and involve them in planning process of
programs
for youth.
Also recognizing youth's input in our communities, the
LWV of Rye, Rye Brook and Port Chester
annually gives a Student Civic Achievement Award to one high school junior who lives in and attends a high school in the City of Rye, Villages of Rye Brook and Port Chester, or the Rye Neck section of the Town of Rye, in recognition of the student's overall contributions to his or her school and community in the areas of civic engagement, advocacy, leadership or
voter education
.
LWV of Chautauqua
is also working with youth in their community. They are working with the Middle School teachers in Dunkirk and Fredonia on a project related to climate 
change
. It is a contest called "Don't Throw That Away." Students can write papers, do posters or come up with other creative expression to deal with this environmental issue.
Following the increased interest in taking action after the marches in January, the LWV of Rensselaer County had about 20 people gather for a postcard mailing event at the Psyche delicatessen. Attendees were there for 2 hours talking and writing. (photo on right)
The LWV of Albany County is hosting a Community Conversation on Immigration in the Captial Region. They will  present an in-depth look at the issues and concerns of the immigrant/refugee community in the Capital District as part of a panel discussion.  The panelists will share some "human interest stories,"discuss the services they offer and ways that individuals can be involved and supportive of immigrant.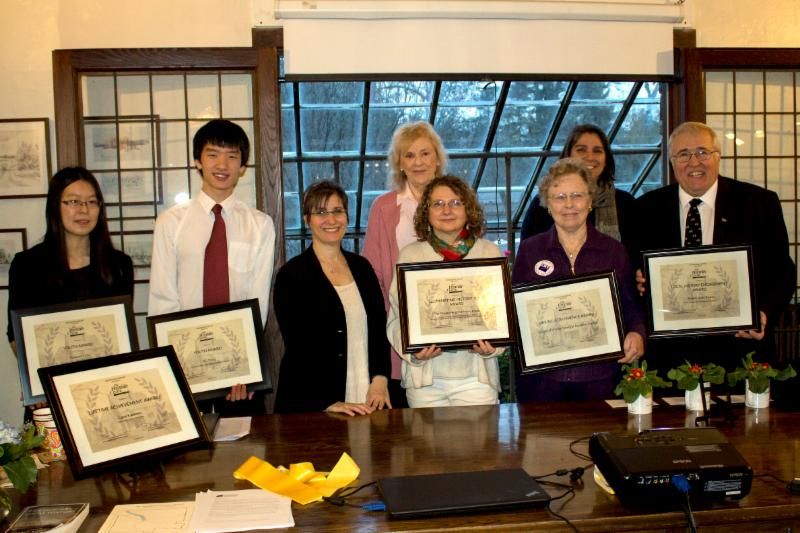 The LWV of Tompkins County was recently recognized and received the Making a Difference Award from the Tompkins County History Center. Congratulations, LWV of Tompkins County! President Kay Sharp is 2nd from right in photo on left.
The election season has begun again for the
LWV of East Nassau
. They have already scheduled candidate forums for the three teams running for Village of Freeport Mayor, Trustee and Village Justice.
In celebration of Black History Month, Rev. Marvin  McMickle, president and professor at Colgate Rochester Crozer Divinity School, and several of the  Rochester Sisters of Saint Joseph, who saved U.S. Representative John Lewis's life on the Edmund  Pettus Bridge back on Bloody Sunday in 1965, will  speak to the
LWV of Rochester
on "History as An Argument for
Voting
."
LWV of NYC has been holding a number of successful Open Houses to encourage people to learn more about the League.  This month they are focusing on "Advocacy in 2017" and will present a panel of LWV members sharing tools, techniques, and tactics to help voters get their voices heard. While NYC saw a greater number of voters turnout in 2016 than in 2012, the percentage of eligible voters was only 55.98 percent. We've got work to do to help make democracy work and get voters registered and engaged for NYC's mayoral race.
Everyone is talking about Fake
News
. How can we recognize it? How can we combat it? What has really occurred and what is made up? The
LWV of Saratoga
is holding a  program on this topic featuring Rex Smith, Editor of the Times Union.
It's been easy to find positive signs of a
change
in the Buffalo region: waterfront development, medical campus construction, new business expansion and startups, and an uptick in the population and employment. But how are we really doing?
LWV of Buffalo/Niagara
hosted Larry Brooks, currently president of the boards of the Western New York Land Conservancy and the Central Council of Buffalo's St. Vincent de Paul Society, to discuss the state of the region, why we are where we are today, and ways to go forward in order for this region to realize its potential.
LWV of Brookhaven
hosted a meeting 
Winning Votes for Women: A Centennial Remembrance
 including a talk by Dr. Natalie Naylor, President of
Nassau County
Historical Society and committee member of Long Island Woman Suffrage Centennial Conference.